In June 2015 our family  booked a Cuban Vacation thru Signature Vacations DBA Selloffvacations  DBA Sunwing. We booked a 3 day Havana 4 Day Varadero package for a family of 5 at a cost of 5845.00
I have stayed at many Iberostars over the years and used Sunwing to go to Mexico last fall and have always been pleased
The booking was Elite upgrade down to Varadero, Ground transport to Havana, 2 suites at Iberostar Parque Central for 3 days then bus to Varadero and 2 suites for 4 nights at Iberostar Laguna Azul.
The flight down on Sunwing was very good. As have been previous flights with Sunwing. The Iberostar Parque Central has a 5 star rating and it is well deserved. The Hotel was excellent by all standards. Both our suites were recently renovated .The staff were very friendly. The breakfast buffet was extremely good. I couldn't be happier and highly recommend the hotel. Any local we talked to said it is the best hotel in Havana and I don't dispute that.
With the exception of the front desk trying to scam 30 CUC (30 US  dollars) PER HOUR  for a babysitter.(.In fairness the Sunwing rep even laughed at their stupid robbery attempt) Our 3 days in Havana were excellent .
For the second part of the vacation we were to get a 2 hour bus to Varadero and stay at the 4.5 star rated Iberostar Laguna Azul. Because of  series of little delays it took 4.5 hours to get there with no traffic instead of 2 but "ìt is what it is ",
When we arrived at the Laguna Azul we checked in and what followed was beyond pathetic. The check in girl was at best completely rude. Whatever problem she had was now our problem. Of course It could be the fact that two people before us were complaining. I am not sure what about but atrocious and disgusting were being bantered around alot (After less then one day at this hotel, those words are way more polite then I would have used) and her crappy attitude was really upsetting the customers.
To call the Iberostar Laguna Azul Varadero Cuba  a 4.5 star hotel is beyond simply exaggerated ratings. It is misrepresentation under the consumer protection act. By any standard the best this place could hope for is 2 stars for facilities,(being generous) one star Service and food. It should not be marketed by Sunwing. In the insulting responses received from Sunwing , they clearly stated that Sunwing inspected and rated this hotel so the misrepresentation is by Sunwing.
We were taken to our Suites 19222 and 19226.. The walk to the suites was a sign of things to come as the hallway had shattered tiles and `mortar"holes everywhere. On day 2 one of my daughters cut her foot open walking in the hall.
The suites are large 2 rooms with large bathrooms but renovated over 7 years ago and it shows. The air conditioning  did not work in either suite and when I went to front desk to get it fixed I was met with a condescending grin. Needless to say the airconditioning was not fixed or even looked at. The ceiling fans worked after I straightened the bent blades. Sleeping consisted of opening  the patio and hall doors and relying on the breeze to reduce to below cooking temperature.
Sunwing website Iberostar Laguna Azul Varadero Cuba  features:
Mini-bar (stocked every other day)                            No booze in Minibar
Air-conditioned                                                                False
Room Category: Suites
• Private check in with welcome champagne drink.               False
• Amenities VIP.                                                                False
• Slippers and bathrobe.                                                   who needs a bathrobe when baking to death!
• Turndown service.                                                          False
• Welcome gift (bottle of rum)                                          False
• SPA's services: special discount..                                   Spa is a disgusting joke Free would be exorbitant.
According to the Sunwing rep although your room checkout is 12pm for a 7 pm pickup. You will be given a convenience room  to change and shower like every other hotel on the planet provides . Not happening. We were simply sent to spa with no showers working and no toilet seat on the one toilet that worked.
Poor service, inedible food, dirty towels can be blown off by Sunwing or Iberostar but `pictures are worth a thousand words`
Pictures wont show the 30 minutes waiting for coffee or juice at breakfast. The 20 minute wait for clean plates at the buffet is easy to understand as they never came and took away the dirty plates from any tables. Picture wont show the poor food kept luke warm , even the food that was to be cold, or the food poisoning our entire family enjoyed as a memory of our fine trip. We had dinners in Havana for 4 CUC that were better the anything we ate at the Iberostar.
It should be noted I am a retired pilot and have stayed at hundreds of hotels worldwide, including several Iberostars  I am also a constant tipper so have never had anything but great service in any all inclusive. We eat local including street carts and have never gotten food poisoning even in the far east.
The hallway in front of our suites
The poor  state of Guest rooms  suites  at Iberostar Laguna Azul Varadero
The  Laguna Azul Pool The only question is swimming or cesspool
Lets go to the Iberostar Laguna Azul pool bar or enjoy the pool chairs as long as nothing falls on our heads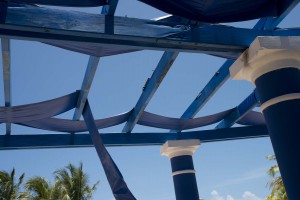 What the Laguna azul spa actually looks like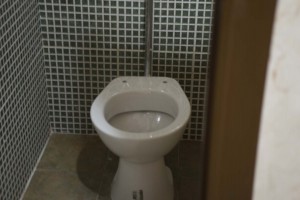 Just a bit more pictures of the poor condition of the Laguna Azul